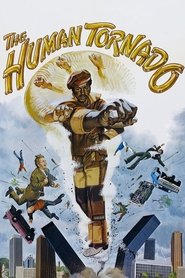 The Human Tornado (fr)
Titre original:
The Human Tornado
Date de sortie: 1976-10-02 (
1976
)
The Human Tornado: Le nom de Rudy Ray Moore est à nouveau synonyme d'action, dans cette suite du cultissime Dolemite, où nous retrouvons notre héros en cavale, ayant à ses basques un sherif réac, qui l'a surpris au lit avec sa femme… Dans une folle course-poursuite qui le mène jusqu'à Los Angeles, Dolemite apprend que Queen Bee et ses guerrières kung-fu ne règnent plus sur l'univers des night-clubs. Elles ont été évincées par Cavaletti, un homme sans pitié qui fricote avec la Mafia… Au cours d'une scène que Rudy Ray décrit comme sensationnelle et sexationnelle, Dolemite découvre le repaire des méchants. S'ensuit une scène de castagne survoltée, où ces petites raclures vont se faire laminer. Mais le shérif est toujours sur ses talons… Notre Tornade humaine pourra-t-elle livrer deux batailles à la fois ?