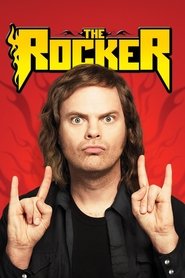 The Rocker (fr)
Slogan: Le seul espoir du groupe est un cas désespéré !
Titre original:
The Rocker
Date de sortie: 2008-08-20 (
2008
)
The Rocker: Exclu de Vesuvius juste avant que le groupe ne devienne mondialement célèbre dans les années 80, Robert "Fish" Fishman a fait une croix sur ses rêves de gloire. Désormais modeste agent d'assurances coincé dans une vie banale, sa passion se réveille lorsqu'il apprend que son neveu, Matt, cherche un batteur pour son groupe. Même si Fish est deux fois plus vieux que les autres membres, il est bien décidé à se faire accepter. Fish ayant l'habitude de répéter à poil, le groupe devient rapidement célèbre sur Internet et ne tarde pas à se lancer dans sa première grande tournée. Pour Fish, c'est le retour du rêve qu'il croyait perdu. Il va enfin devenir une rock star, mais son voyage va aussi le conduire vers quelque chose qu'il n'avait jamais imaginé : la maturité.