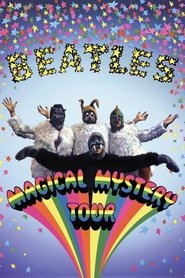 Magical Mystery Tour - The Beatles (pt)
Slogan: beatles, mágica, música, psicodélico, rock and roll, turismo, viagem
Título original:
Magical Mystery Tour
Avaliação:
6.6 (Votos: 102)
Data de lançamento: 1967-12-25 (
1967
)
Magical Mystery Tour - The Beatles: Magical Mystery Tour, concebido e dirigido pelos próprios Beatles, é uma visão surreal da tradição britânica de viajar de ônibus para o litoral, estrelando os membros da banda e um elenco de personagens bem excêntricos. O filme foi originalmente exibido no Reino Unido em 1967. Enquanto a música – com destaque para clássicos como "Magical Mystery Tour", "The Fool on the Hill" e "I Am the Walrus" – foi arrebatadoramente bem recebida, o filme recebeu avaliações fracas de críticos de TV que esperavam algo mais leve e mais no estilo de A Hard Day's Night. Como resultado, o filme não foi largamente distribuído. Agora, 45 anos depois, este clássico visto por poucos foi completamente restaurado e está sendo apresentado com toda sua glória original pela primeira vez.