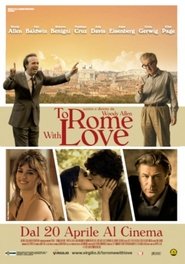 To Rome with Love (it)
Titolo originale:
To Rome with Love
Valutazione:
5.8 (Voti: 1560)
Data di rilascio: 2012-04-20 (
2012
)
To Rome with Love: Dopo Londra, Barcellona e Parigi, Woody Allen continua il suo omaggio all'Europa e, per la prima volta, gira un film interamente ambientato a Roma, dirigendo un cast d'eccezione. Il film è ispirato alle novelle del Boccaccio ed è composto da quattro episodi con protagonisti quattro differenti turisti americani nella Capitale. commedia spensierata, un film caleidoscopico ambientato in una delle città più affascinanti al mondo. Il film ci mette in contatto con un architetto americano molto noto che rivive la sua gioventù, un borghese romano qualunque che all'improvviso si trova ad essere la massima celebrità di Roma; una giovane coppia provinciale attratta in incontri romanici separati ed un regista americano di opera che tenta di far salire sul palcoscenico un impresario di pompe funebri cantante.