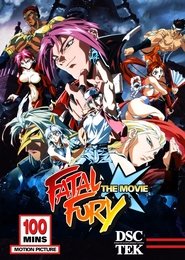 Fatal Fury: The Motion Picture (it)
Titolo originale:
餓狼伝説 THE MOTION PICTURE
Valutazione:
7.8 (Voti: 51)
Data di rilascio: 1994-07-16 (
1994
)
Fatal Fury: The Motion Picture: Narra una leggenda che, 2300 anni fa, un uomo di nome Godamas minacciò lo sconfinato impero di Alessandro il Grande grazie ai poteri dell'Armatura di Marte. In uno scontro che spazzò via Babilonia, Godamas venne sconfitto e l'armatura venne smembrata in sei parti che furono disperse in luoghi remoti. Lacoon Godamas, l'arrogante e giovane discendente dell'antico proprietario dell'armatura, sta ora tentando di recuperare tutti e sei i frammenti. Per fermare la sua folle ambizione, sua sorella gemella Sulla si rivolge disperata all'univo in grado di farlo: Terry Bogard!