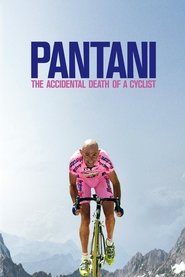 Pantani (it)
Motto: Ogni uomo ha la sua montagna da scalare
Titolo originale:
Pantani: The Accidental Death of a Cyclist
Valutazione:
6.7 (Voti: 21)
Data di rilascio: 2014-02-17 (
2014
)
Pantani: Pantani ripercorre i grandi successi del Pirata e si interroga sulla sua improvvisa caduta: l'uomo contro la montagna, l'atleta contro la dipendenza, Marco Pantani contro sé stesso. Un documentario ricco di filmati di repertorio, interviste e testimonianze di familiari e amici del campione. Nel 1998 Marco Pantani vinse sia il Tour de France che il Giro d'Italia: un'impresa titanica nella quale nessun atleta prima era riuscito. Per milioni di persone era l'eroe che ha salvato l'immagine del ciclismo nel periodo degli scandali sul doping. A sei anni da quello straordinario traguardo, Pantani muore solo in una stanza d'albergo, per intossicazione acuta da cocaina. Pantani vuole ricordare al cinema un importante personaggio del mondo dello sport a 10 anni dalla sua prematura scomparsa.