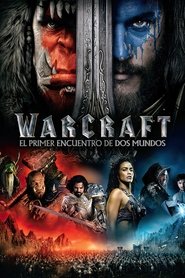 Warcraft: El origen (es)
Eslogan: Dos mundos. Un solo hogar.
Titulo original:
Warcraft
Evaluacion:
6.3 (Votos: 5266)
Fecha de lanzamiento: 2016-05-25 (
2016
)
Palabras clave:
based on video game
,
sword and sorcery
,
fictional war
,
fictional language
,
live action and animation
,
sorcerer
,
world of warcraft
,
wizard
,
orc
,
magic
,
elves
,
video game
,
based on comic
,
chase
,
muscles
,
orcs
Warcraft: El origen: El pacífico reino de Azeroth está a punto de entrar en guerra para enfrentarse a unos terribles invasores: orcos guerreros que han dejado su destruido mundo para colonizar otro. Al abrirse un portal que conecta ambos mundos, un ejército se enfrenta a la destrucción, y el otro, a la extinción. Dos héroes, uno en cada bando, están a punto de chocar en un enfrentamiento que cambiará el destino de su familia, su pueblo y su hogar. Así empieza una espectacular saga de poder y sacrificio donde se descubren las numerosas caras de la guerra y donde cada uno lucha por lo suyo. Adaptación del popular videojuego homónimo.