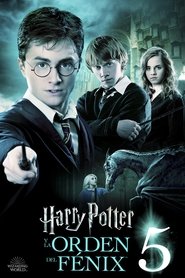 Harry Potter y la Orden del Fénix (es)
Eslogan: Debe enfrentarse al mal.
Titulo original:
Harry Potter and the Order of the Phoenix
Evaluacion:
7.7 (Votos: 14844)
Fecha de lanzamiento: 2007-06-28 (
2007
)
Palabras clave:
dying and death
,
school of witchcraft
,
witch
,
based on young adult novel
,
black magic
,
child hero
,
prophecy
,
loss of loved one
,
mystical land
,
magic
,
sorcery
,
supernatural
,
occult
Harry Potter y la Orden del Fénix: Harry Potter regresa por quinto año a Hogwarts aún sacudido por la tragedia ocurrida en el Torneo de los Tres Magos. Debido a que el Ministro de la Magia niega el regreso de Lord Voldemort, Harry se convierte en el centro de atención de la comunidad mágica. Mientras lucha con sus problemas en el colegio, incluyendo a la nueva profesora Dolores Umbridge, intentará aprender más sobre la misteriosa Orden del Fénix.