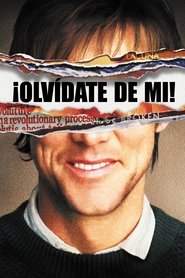 ¡Olvídate de mí! (es)
Eslogan: Ya me olvide de lo que sentía por ti.
Titulo original:
Eternal Sunshine of the Spotless Mind
Evaluacion:
8.1 (Votos: 11053)
Fecha de lanzamiento: 2004-03-19 (
2004
)
Palabras clave:
deja vu
,
relationship problems
,
nonlinear timeline
,
dream
,
heartbreak
,
love
,
amnesia
,
jealousy
,
relationship
,
tragic comedy
,
operation
,
brainwashing
,
regret
,
memory
¡Olvídate de mí!: Una mujer usa los servicios de una empresa para borrar de su memoria todo recuerdo de su ex pareja. Ofendido, el hombre intenta hacer lo mismo que ella, pero el proceso no sucede según lo esperado y el protagonista debe atravesar la gigantesca marea de recuerdos de su propio cerebro para recomponer las cosas.