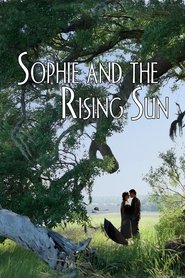 Sophie and the Rising Sun (es)
Titulo original:
Sophie and the Rising Sun
Evaluacion:
7 (Votos: 20)
Fecha de lanzamiento: 2016-01-27 (
2016
)
Sophie and the Rising Sun: Mientras la Segunda Guerra Mundial hace estragos en Europa, el Sr. Ohta, aparece en el poblado bajo circunstancias misteriosas. Sophie, nativa de Salty Creek, rápidamente queda atrapada por el Sr. Ohta, crece una amistad entre ellos, y del amor mutuo por el arte, nace y florece un cortejo delicado y prohibido. A medida que evoluciona su relación secreta, la guerra se intensifica trágicamente y cuando Pearl Harbor es bombardeada, una oleada de patriotismo equivocado, lleno de intolerancia y violencia barre la ciudad, amenazando la vida del Sr. Ohta. Un trío de mujeres, cada una con sus propios secretos, Sophie, junto con la matriarca del pueblo y su ama de llaves, rechazan la ley arriesgando sus vidas con sus acciones..