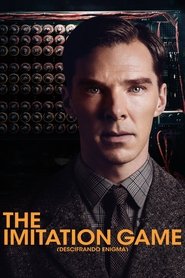 The Imitation Game (Descifrando Enigma) (es)
Eslogan: Descifrar el código. Ganar la guerra.
Titulo original:
The Imitation Game
Evaluacion:
8 (Votos: 13425)
Fecha de lanzamiento: 2014-11-14 (
2014
)
Palabras clave:
cryptography
,
mathematician
,
gay
,
world war ii
,
england
,
logician
,
biography
,
lgbt interest
,
homophobia
,
gay theme
,
male homosexuality
The Imitation Game (Descifrando Enigma): Durante el invierno de 1952, las autoridades británicas entraron en el hogar del matemático, analista y héroe de guerra Alan Turing, con la intención de investigar la denuncia de un robo. Al final acabaron arrestando a Turing acusándole de indecencia grave, un cargo que le supondría una devastadora condena por una ofensa criminal: ser homosexual. Los oficiales no tenían ni idea de que en realidad estaban incriminando al pionero de la informática actual. Liderando a un heterogéneo grupo de académicos, lingüistas, campeones de ajedrez y oficiales de inteligencia, se le conoce por haber descifrado el código de la inquebrantable máquina Enigma de los alemanes durante la Segunda Guerra Mundial.