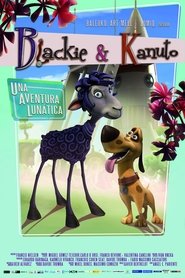 Blackie & Kanuto (es)
Eslogan: Una aventura lunática
Titulo original:
Black to the Moon 3D
Evaluacion:
5.2 (Votos: 7)
Fecha de lanzamiento: 2013-02-15 (
2013
)
Blackie & Kanuto: Blackie, la oveja negra, está obsesionada con ir a la Luna. Kanuto, el perro pastor, está obsesionado con Blackie, pero no quiere ni oír hablar de cohetes. Sin embargo, acaban emprendiendo el viaje soñado por Blackie. Por el camino encuentran vacas que son cantantes de ópera, lobos galantes, arañas inmigrantes sin papeles y un extraño grupito de perros que tienen un cohete listo para despegar. Pero Pinky, una descomunal oveja rosa de carácter endiablado, se lo impide.