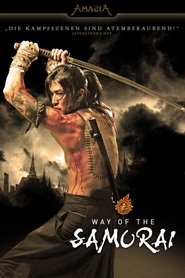 Way of the Samurai (de)
Originaler Titel:
ซามูไร อโยธยา
Auswertung:
6.1 (Stimmen: 25)
Veröffentlichungsdatum: 2010-02-22 (
2010
)
Way of the Samurai: Thailand im 16. Jahrhundert: Der desillusionierte Samurai Yamada Nagamasa (Seigi Ozeki) hat seiner Heimat Japan den Rücken gekehrt und sich in Thailand niedergelassen. Dem Krieg jedoch kann er auch hier nicht entkommen. Als das Königreich Ayothaya in Kampfhandlungen mit Burma verwickelt wird, schlägt er sich auf die Seite seiner neuen Heimat und lässt seine Klinge gegen die Burmesen walten. Nach getaner Arbeit ist die Gefahr jedoch noch nicht vorbei. Mysteriöse Samurai-Krieger aus Yamadas alter Heimat schleichen durchs Unterholz und verbreiten Angst und Schrecken. Eines Nachts lauern sie auch Yamada auf. Nur durch Glück und mit Hilfe des Muay-Thai-Kämpfers Ai-Seua (Buakhao Paw Pramuk) gelingt es ihm, die Strolche abzuwehren. Zusammen mit Ai-Seua versucht Yamada, dem Geheimnis der mörderischen Samurai auf den Grund zu gehen...