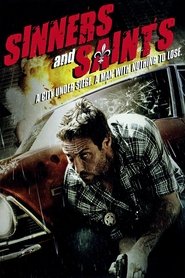 Sinners and Saints (de)
Motto: Seine Stadt. Seine Regeln. Keine Gefangenen.
Originaler Titel:
Sinners and Saints
Auswertung:
5.7 (Stimmen: 60)
Veröffentlichungsdatum: 2010-06-30 (
2010
)
Sinners and Saints: Im New Orleans der Post-Katrina-Ära zieht der kaputte Cop Riley seine blutigen Bahnen. Presse und Anwälte wären ihn gerne los, doch der Chef braucht Typen wie ihn im justament abrollenden Bandenkrieg, dessen Brutalität alle Dimensionen sprengt. Nun wird dem Bad Lieutenant, dem nach dem Verlust von Frau und Kind ohnehin alles egal ist, mitten im Krieg auch noch ein neuer, eher schüchterner und wenig kampflustiger Partner ans Bein gebunden. Doch Riley merkt schnell, dass auch der Neue seine Qualitäten hat.