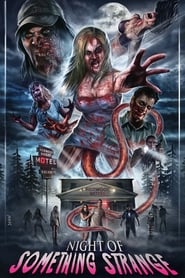 Night of Something Strange (de)
Originaler Titel:
Night of Something Strange
Auswertung:
4.7 (Stimmen: 51)
Veröffentlichungsdatum: 2016-04-08 (
2016
)
Schlüsselwörter:
spring break
,
rape
,
murder
,
toilet
,
necrophilia
,
marijuana
,
high school
,
sexually transmitted disease
,
zombie
,
motel
,
cannibal
Night of Something Strange: Cornelius arbeitet in einer Leichenhalle und fängt sich dank seiner ungesunden Zuneigung zu den Verstorbenen einen gefährlichen Virus ein. Die sexuell übertragbare Krankheit ist hochansteckend und macht aus den Infizierten sexhungrige Zombies - so auch Cornelius. Er und die anderen Betroffenen wollen nur eins: den Virus in der Welt verbreiten. Eine Gruppe feierwütiger Teenager gerät ins Visier der wandelnden Monster: Carrie und ihre Freunde wollten eigentlich eine Woche am Strand in der sommerlichen Sonne verbringen, doch sie kommen vom Weg ab und landen in einem abgelegenen Motel… wo die Zombies schon auf sie warten. Ein blutiger Kampf ums Überleben beginnt.