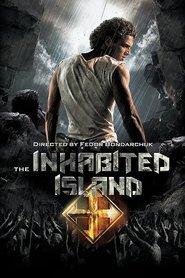 Dark Planet: The Inhabited Island (de)
Originaler Titel:
Obitaemyy Ostrov
Auswertung:
5.5 (Stimmen: 67)
Veröffentlichungsdatum: 2008-12-18 (
2008
)
Schlüsselwörter:
strugatsky
,
big city
,
head of state
,
girlfriend from china
,
sword fight
,
spacecraft
,
space
,
sibling relationship
,
brainwashing
,
based on novel or book
,
hard to kill
,
testting
Dark Planet: The Inhabited Island: 2157 auf Saraksh, dem sternenlosen Planeten: Die Bewohner leiden unter den verheerenden Folgen eines jahrelang andauernden Atomkriegs. Der Frieden ist alles andere als stabil und fünf unbekannte brutale Herrscher regieren den Planeten. Als der junge Maxim Kammerer das Weltall auf der Suche nach fremden Zivilisationen durchstreift, macht er eine Bruchlandung auf dem von Terror und Krieg zerstörten Saraksh...